Training is a top priority at the Hillside Fire Department! We are dedicated to the fire service motto "Everybody Goes Home".  We believe this can only be achieved through proper, safe, and on-going practice and training. 
We strive to train in as many of the ever changing aspects of the fire service. We train and practice firefighter safety and escape plans, fire tactics and strategy, search and rescue, RIC, Haz-Mat, Incident Management System, Mutual-Aid, rope rescue, confined space, SCBA, vehicle extrication, and other fire related subjects.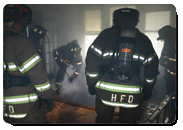 We are also trained and certified NJ State Emergency Medical Technicians (EMTs).  In addition to the above fire training, we train regularly to maintain our EMT skills and status through the NJ Department of Health and Senior Services.
Our training officer is Captain Ed Trela.
To contact Hillside's Training Division, call Captain Ed Trela at 908-352-1700, Monday-Friday, 9am-5pm.